In the world of product marketing, packaging often serves as the silent ambassador of your brand. It isn't just about protecting what's inside; it's about promoting a brand story, ensuring user experience, and making a statement in a sea of competitors. The choice of paper plays a pivotal role in this narrative. This guide seeks to illuminate the myriad considerations behind that choice.


Paper Types
Within the realm of the packaging industry, a diverse array of paper types beckons. Art Paper, Card Stock, Kraft Paper, and several others stand out as favorites. In this section, we'll spotlight these prevalent choices. Yet, remember, while these selections are common, they represent just a fraction of the available options.

1. Art Paper: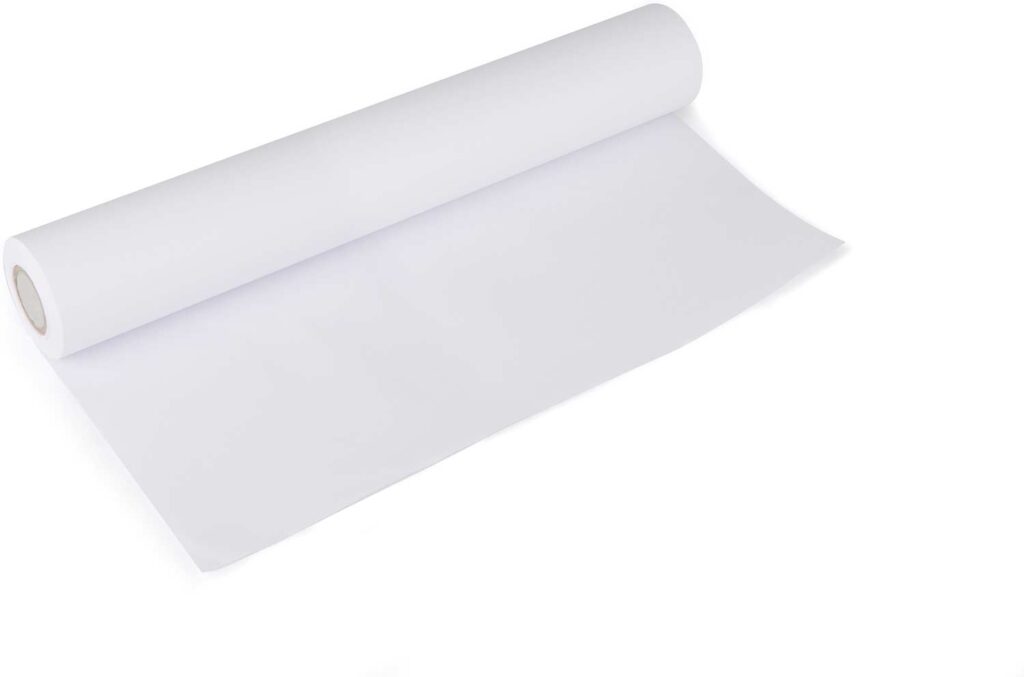 High-quality coated paper available in matte or glossy finishes, art paper is esteemed for its sharp, vibrant images and sleek, smooth texture. Perfect for products requiring a premium appearance, showcases vibrant printing while evoking luxury.
Applications: Cosmetic packaging; boutique products; luxury goods.

2. Cardstock: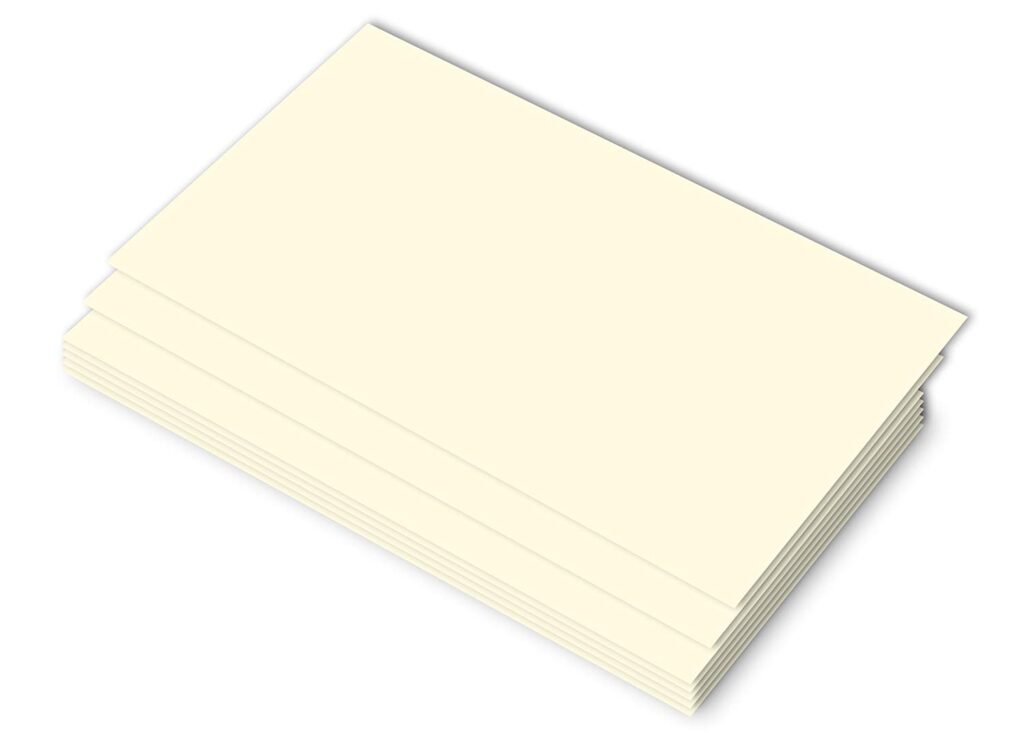 A thick, durable paper, card stock is one of the most widely used paper types. Regularly used in the creation of folding cartons, retail boxes, promotional cards, and paper bags, it's a reliable choice for many packaging needs.
Applications: Premium cosmetics; boutique boxes; luxury shopping bags; Playing cards.

3. Kraft Paper: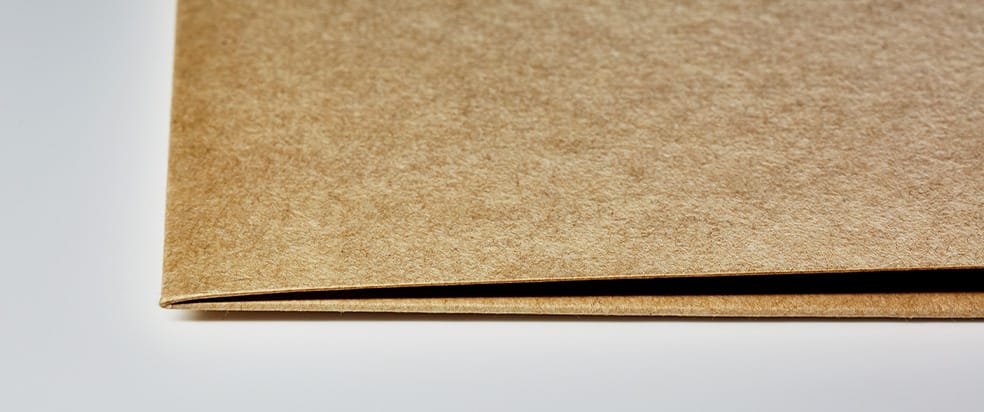 Characterized by its unbleached brown hue and eco-friendly nature, Kraft paper stands out with its rustic appeal. It's a popular choice for brands focusing on sustainable packaging solutions.
Characteristics: Strong, coarse fibers; natural brown hue.
Benefits: Eco-friendly; robust; can handle rough handling.
Applications: eCommerce packaging; organic or eco-friendly products; Eco-friendly bags.

4. Black Card:
Thick and dark-colored paper. The richness of black card delivers an immediate impression of luxury. It's an excellent option for premium packaging, and when paired with metallic inks or embossing, it elevates the presentation even further.
Applications: Premium cosmetics; jewelry boxes; boutique products.

5. Metallic Paper: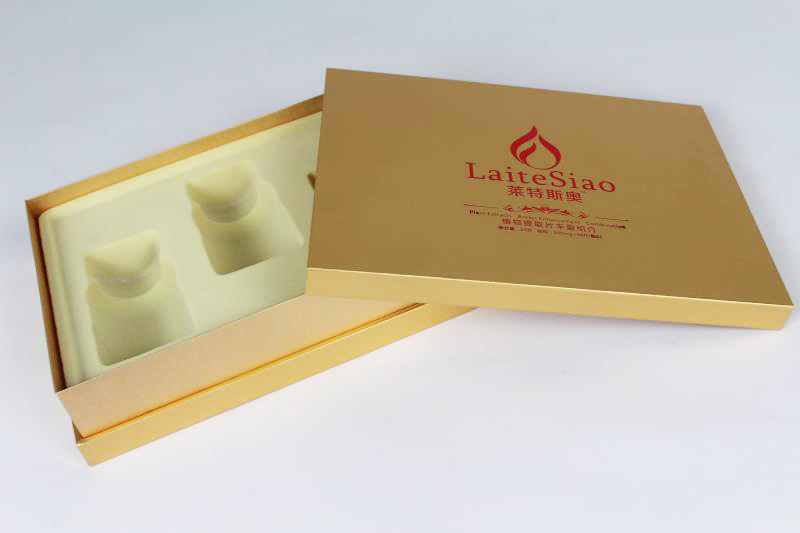 Reflective and shimmering, with gold and silver being the predominant shades, metallic paper exudes luxury. Often chosen for high-end product packaging, its standout finish is perfect for items like perfumes, cosmetics, and specialty gifts.
Applications: Cosmetic packaging; holiday products; specialty items.

6. Fancy Paper:
These papers are special; not just by name but by nature. They add a touch of luxury, texture, or an unexpected twist that can elevate the perceived value of your product. Here are a few popular choices:
Textured Paper: Distinctive for its tactile surface patterns, textured papers bring an added dimension of touch to packaging. Some of the popular patterns found in the packaging industry include Linen, Canvas, Hammered, Woodgrain, Laid, Stipple, Parchment, Felt, and Sand. Each of these patterns can offer a unique appeal and elevate the presentation of a product.
Pearl Paper: Mirroring the sheen of pearls, this paper introduces a luxurious aesthetic, often found in cosmetics and other high-end product packaging.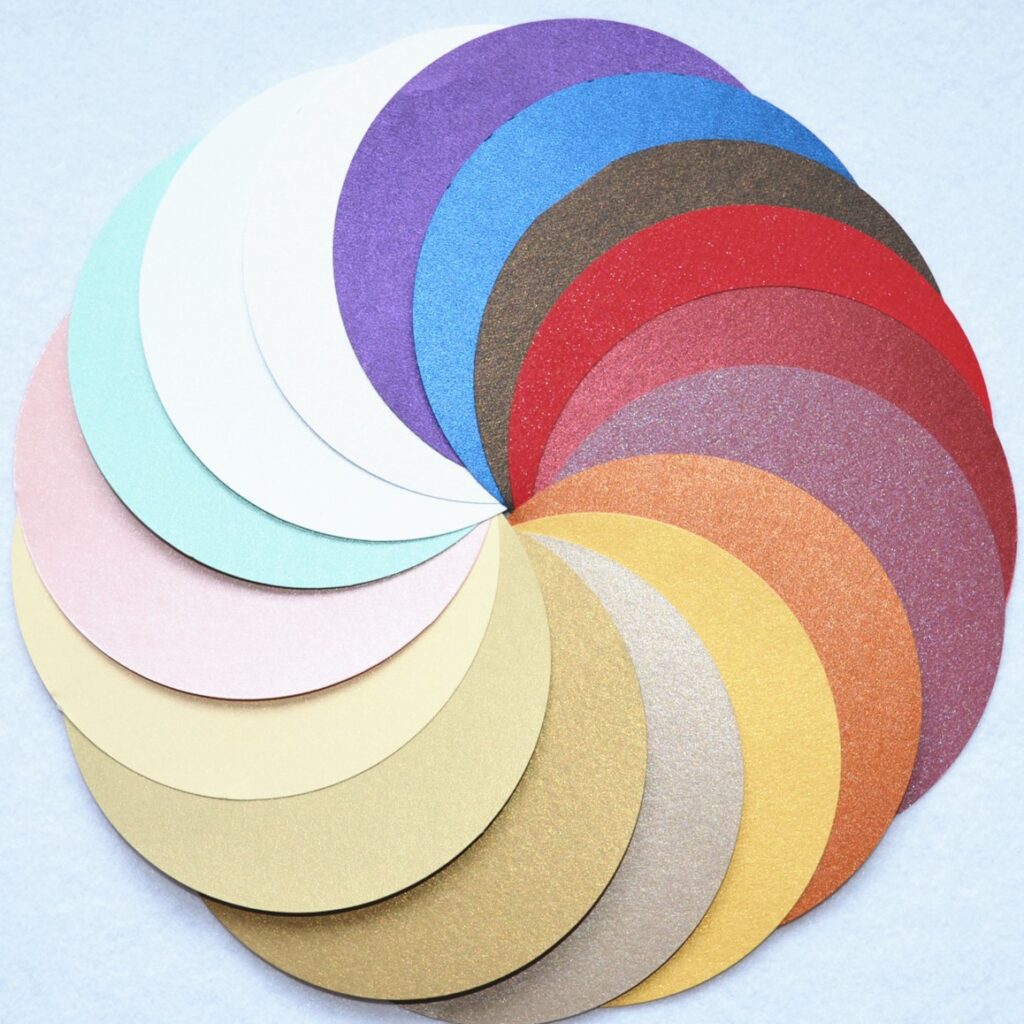 Soft Touch Paper: Recognized by its velvety finish, this paper amplifies the tactile experience of any packaging, heightening its perceived value.
Leather Paper: Designed to echo the texture and appearance of leather, this paper type comes in a range of colors and textures. Its varied options make it a favored choice for brands aiming for a sophisticated look without the use of actual leather.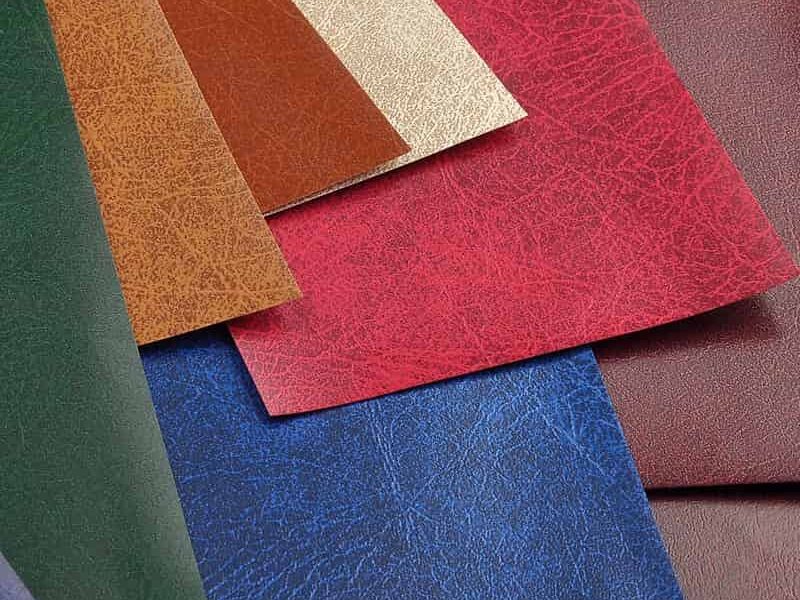 Colored Paper: These papers are dyed to perfection, setting the mood or evoking emotions right at the first glance. Their vibrant hues can align with a brand's color scheme or provide a contrasting backdrop for logos and product information.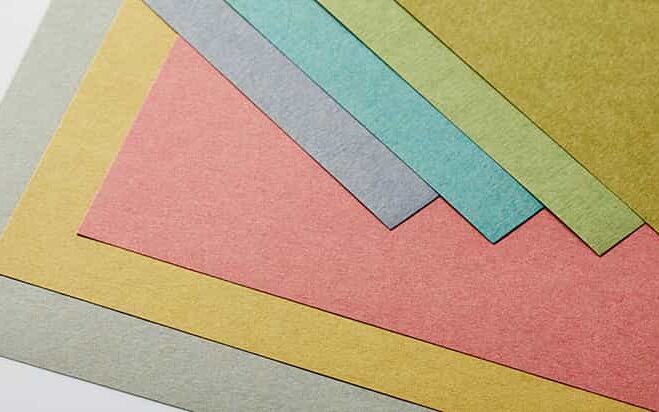 Each type of fancy paper offers a unique characteristic that can elevate your product's presentation, ensuring it doesn't just sit on a shelf but stands out and beckons to potential customers.

7. Corrugated Cardboard:
Made of fluted sheets, corrugated cardboard promises strength and cushioning, making it an undisputed choice for shipping boxes and protective packaging. It ensures that the products inside are shielded from any external pressures.
Applications: Shipping boxes; heavy items; subscription boxes.
Moving forward from the paper types, we'll delve into the next critical aspect of packaging paper choice: thickness. This attribute is vital as it often dictates the protective capacity and perceived quality of the packaging.


---
Paper Thickness
Choosing the right thickness for your packaging paper can greatly influence the durability, presentation, and perceived value of the packaged product. Let's explore the main ways to determine paper thickness and how to make an informed choice:
1. Grammage (gsm):
Description: 'Grammage' is the weight of paper per square meter, typically expressed as gsm (grams per square meter). Generally, a higher gsm signifies a thicker and more robust paper. This is a standard measurement that gives an idea of the sturdiness and quality of the paper.
2. Points (pt):
Description: Points, especially used for cardstock, signify the thickness of the paper in thousandths of an inch. For instance, a 10pt card is 0.010 inches thick. This gives an idea of the rigidity of the paper and is essential for packaging requirements where durability is key.
Choosing the Right Thickness:
The Weight of the Product: Heavier products usually demand sturdier paper. For example, a weighty ornament might be best packaged in high gsm cardstock, whereas a lighter item like a scarf might be suited to lower gsm art paper.
The Perceived Value: Premium items, even if they're lightweight, often benefit from thicker packaging. This not only safeguards the product but also enhances the unboxing experience, emphasizing the item's luxury aspect.
Protection Needs: Consider whether the product is fragile or needs protection from external elements like moisture. Some papers, despite being thin, might have protective qualities suitable for specific products.
Budget Constraints: While thicker papers generally come at a higher price point, it's crucial to strike a balance between budget and the necessary paper quality.
Note: Although weight and thickness usually correspond, this isn't always the case. An embossed card with a raised design may be thicker due to the embossing but not necessarily heavier. If sturdiness is a concern, it's advisable to refer to the gsm or lb measurements rather than mere thickness. However, we might not always provide gsm or lbs for thicker stocks, so it's recommended to view a sample in person to get an accurate feel.

Recommendations on Paper Thickness
Folding Carton: For items like folding cartons, which are used extensively for products such as cosmetics, foods, and small consumer goods, the preferred thickness is generally between 250-350gsm. This offers a balance between flexibility and durability.
Rigid Box: Rigid boxes, known for their robust structure and luxury appeal, typically utilize a paper wrap in the range of 120-150gsm over a sturdy greyboard or chipboard core. The paper wrap provides the aesthetics, while the core ensures strength.



---
Sustainability and Environmental Considerations
In today's consumer landscape, many buyers are environmentally conscious and prefer brands that demonstrate a commitment to sustainability. Therefore, the paper choice for packaging can also reflect your brand's environmental responsibility.
1. Recycled Paper:
Description: Made from reclaimed paper products, recycled paper undergoes a process to remove inks, contaminants, and other impurities before being reconstituted into new paper.
Benefits: Reduces the need for virgin paper pulp, leading to fewer trees being cut down; reduces landfill waste; often has a unique, rustic look.
Applications: Suitable for brands aiming to showcase an eco-friendly image; popular for organic products or nature-based brands.
2. FSC-Certified Paper:
Description: The Forest Stewardship Council (FSC) certifies papers that are sourced from responsibly managed forests, ensuring environmental, social, and economic benefits.
Benefits: Promotes responsible forestry; ensures the paper is from a renewable source.
Applications: Suitable for brands looking to showcase commitment to sustainable practices; often used by major retailers and eco-conscious companies.
3. Biodegradable & Compostable Paper:
Description: These papers break down naturally over time, reducing their environmental impact once disposed of.
Benefits: Reduces environmental footprint; aligns with a green brand image.
Applications: Ideal for short-term use packaging or for brands strongly aligned with sustainability.

Making Sustainable Choices:
Your choice of paper not only impacts the environment but can also influence consumer perception of your brand:
Brand Image: Eco-friendly packaging can bolster your brand's reputation, particularly among environmentally conscious consumers.
Cost Implications: While sustainable options can sometimes be pricier upfront, they can lead to increased customer loyalty and appeal in certain market segments.
Local Regulations: Some regions might have regulations or incentives in place regarding sustainable packaging, which can influence your choice.
---
Printing and Design Compatibility
The choice of paper can greatly affect how well a design or print appears on packaging. Ensuring compatibility is key to achieving the desired look and feel.
1. Ink Absorption:
Different papers have varying degrees of absorbency. High absorbency can lead to muted colors, while low absorbency can result in vibrant prints.
2. Surface Smoothness:
A smoother surface typically allows for finer detail in printing, while a rougher surface might lend a more artisanal look.
3. Color Compatibility:
Certain papers may not reproduce colors faithfully. For instance, a kraft paper might cause colors to appear more muted due to its brown hue.
4. Special Printing Techniques:
Techniques like foil stamping, embossing, or debossing may require specific paper types or thicknesses to achieve the desired effect.
Optimizing for Print:
Test Runs: Before committing to a large print run, doing a test on your chosen paper can help identify any issues or adjustments needed.
Consultation: Engaging with a printing specialist can provide insights into how different papers might react with your design.

---
Practical Steps for Choosing the Perfect Paper
Choosing the ideal paper for your packaging involves both technical and aesthetic considerations. Here's a step-by-step guide to streamline the process:
1. Define Your Brand Identity:
Before diving into paper choices, ensure you have a clear vision of your brand identity. Are you aiming for luxury, eco-friendliness, or perhaps an artisanal touch? Your brand identity will influence the type, finish, and sustainability choices of the paper.
2. Determine the Product's Needs:
Consider the product being packaged. Delicate items may require sturdier packaging, while lightweight items might not. Is protection from external factors (like moisture) a priority?
3. Consider the Budget:
High-end papers and finishes will come with a cost. Outline a clear budget to narrow down choices and make the selection process more manageable.
4. Request Samples:
Always request samples! Feeling the paper and seeing how it looks in different lighting can greatly influence your decision. It's also a good opportunity to do a test print and see how your design appears on the paper.
5. Think About the Unboxing Experience:
Unboxing is a tactile experience. Consider how the paper will feel in the customer's hands, and what impression it will leave. Is it aligned with the brand experience you want to convey?
6. Seek Expert Advice:
Engage with professionals, such as paper suppliers or print experts, to get their insights. They can offer recommendations based on your requirements and share the latest trends and innovations in the paper industry.
---
Common Mistakes to Avoid
Even with the best intentions, mistakes can happen. Here are common pitfalls to steer clear of:
1. Overlooking Sustainability:
In the modern consumer landscape, many buyers are keen on sustainability. Ignoring this aspect can lead to missed opportunities in brand perception.
2. Not Testing Designs:
What looks great on screen might not translate well to paper. Always do a test print to avoid expensive reprinting.
3. Ignoring Durability Needs:
A beautiful package that can't protect its contents is counterproductive. Ensure the paper type and thickness align with the product's protection needs.
4. Forgetting About Transportation:
Consider the journey your product will take. If it's traveling long distances or being shipped, the packaging must withstand potential wear and tear.
5. Being Swayed Only by Trends:
While it's good to know the latest trends, ensure the paper choice truly aligns with your brand and product. Not every trend will be suitable for every product or brand.



---
Paper Recommendations for Common Packaging Applications
Here are some popular paper selections for various packaging industries:
1. Food & Beverage Packaging:
Cardstock (250-350gsm): Ideal for teas, coffees, and chocolates packaging.
Metallic or Pearl Paper (120-200gsm): Used for wine packaging, luxury chocolates, and other premium products.
2. Cosmetic & Beauty Packaging:
Art Paper with Lamination (150-350gsm): Ideal for perfumes or makeup palettes. It's glossy, enhancing the product's aesthetics.
Metallic or Pearl Paper (120-350gsm): Used for special edition cosmetics or holiday sets, offering a reflective and luxe appearance.
Textured Paper (120-350gsm): Especially for gift sets or limited editions. The texture adds a unique tactile experience.
3. Apparel & Fashion Packaging:
Cardstock with Lamination (250-350gsm): Used for apparel boxes. It's sturdy, protective, and the lamination offers either a glossy or matte finish.
Kraft Paper (100-350gsm): Commonly seen in eco-friendly shopping bags or tags.
4. Electronics & Gadgets Packaging:
Corrugated Cardboard with an Art Paper Overlay: Provides protection to electronics, combined with a sleek branding surface.
Art Paper with Greyboard: Commonly used for phone packaging and other tech products.
5. Home & Decor Packaging:
Corrugated Cardboard (2-6mm thickness): Great for shipping larger or fragile home decor items. Provides padding and protection.
Textured or Fancy Paper (120-350gsm): For wrapping premium home goods or gift items.
6. Toys & Games Packaging:
Corrugated Cardboard with an Art Paper Overlay: Suitable for a range of toys and games packaging.
Art Paper with Greyboard: Perfect for kit sets and other toy packages that require sturdiness combined with a sleek appearance.
Conclusion
Choosing the right paper for your packaging project is not just about aesthetics; it's about aligning the paper choice with your brand's values, ensuring durability, being conscious of the environment, and optimizing costs. It's a balance between form and function, aesthetics and practicality.
Thank you for journeying through this guide with us. We hope it proves invaluable in your future packaging endeavors.


---
📞 Need a Detailed Suggestion for Your Packaging?
Our specialists are ready to assist. For bespoke advice tailored to your needs, click here to contact our expert team.