If you'd like to add a luxurious touch to your publications and packages, then you'll want to consider adding a layer of UV varnish. This post-process technique gives your printed projects an excellent finish and eye-catching look, standing out from the rest.
But what is this post-process technique, exactly? Furthermore, how can you benefit from it? Here's a guide to UV varnish!
What is UV Varnish?
UV varnish is a special kind of varnish, a clear liquid applied to surfaces that are then cured and finished through UV light from an ultraviolet drying machine, also known as a UV coating machine. Using this on projects gives you a vivid, luxurious, and tactile finish compared to non-UV varnishes. It can add a professional look to printed projects with a high gloss-like effect, bringing artwork designs to life.
One can choose among different finishes under UV coating, such as gloss, matt, or satin. Such finishing can be applied over specific areas or the entire printed area.
When only placing the UV varnish on specific surface areas, it's called spot UV. Instead of generously applying UV varnish over the entire surface, it's applied to particular parts, such as the logo, specific text, or images. That way, it would bring more dimension to the finished product, highlighting critical elements.
A plate is required to print for spot UV processes. If you want a spot UV, you can specify the areas and send the artwork to your chosen service provider.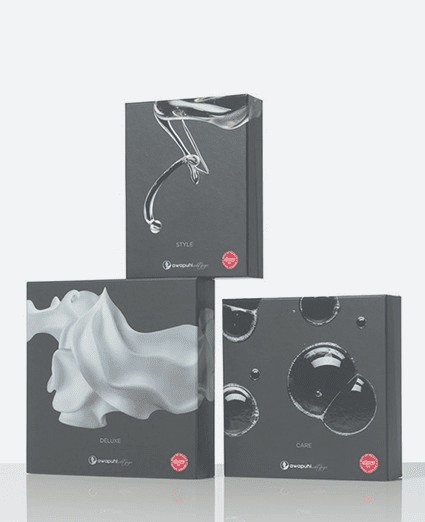 Because of its aesthetically pleasing result, UV varnish is a very popular finish process for packaging. UV varnish contains certain ingredients to ensure it's strongly bonded to the packaging or paper. It includes calcium, carbonate, kaolinite, and polyethylene.
The varnish is then applied using a roller or silkscreen, generously distributing the liquid across surfaces. After the wet coating is applied, it will be cured through ultraviolet light. Within seconds, the UV varnish is completely dry.
UV Varnish vs. Other Methods
It would be best to confuse UV coating with other paper finishing processes, like lamination or varnishing.
Lamination involves adhering a plastic film to a sheet of paper, while UV varnishing uses a liquid coat to create a thick layer that is cured using ultraviolet light. Both processes can give your piece a glossy, matt, or satin finish and good protection of print material.
Both varnish and UV are liquid finish applied but varnishing is thin and not as glossy as UV. Varnishing is the least expensive but is more resistant to crackling if folded. Therefore, varnish is used more for protection, whereas UV focuses on highlighting.
The Types of UV Varnishes
There are different kinds of UV coating to choose from, depending on the appearance and texture you'd like on your project. Consider the following options:
Gloss UV is the glossiest among all options, as the name suggests. If you want brilliant gloss and transparency, you'll like this option. However, this option is best for spot UV rather than the entire surface, as it would be highly reflective.
Matte UV will give off elegance and luxury. There's also such a thing as flood protective UV, covering the whole sheet to create a rich and vivid effect. However, do note that matte UV is prone to fingerprints.
Pearlescent UV leaves your package with a lustrous, pearlescent glow. This is combined with gloss UV with some metal flecks of different colors. It's an excellent option for cosmetics packaging.
Orange Peel UV combines a textures finish with a raised design, creating a unique tactile and visual interest. This textured finish will give packages a sensory element, which isn't only attention-grabbing and fun to handle.
The Pros and Cons of UV Varnish
There are numerous advantages that UV varnish holds, such as:
It will protect your product from scratches and scuffs
It has a high ink rub resistance, offering protection against your marketing tools
You get a competitive advantage against UV coating as it enhances your brand image, which helps maximize the return on investment.
There are higher gloss options than regular varnish or aqueous coating
There aren't any solvents used in the curing processes as it's cured with UV and not heat. That means UV varnish is environmentally-friendly, without any volatile organic compounds. You can also recycle any paper with UV coating after.
UV varnish dries very quickly, reducing production time
You get high clarity from UV coatings, with the surface standing out. It also has a high shine finish, making it a well-admired option.
That said, there are also disadvantages you must take note of, like:
Depending on the PMS colors used, UV varnish may be at risk of chemical burning
If ever the process was poorly done, then the result may appear a bit defective
There's the chance of cracking easily if folded or scored, as the coating is harder and thicker
UV varnish may emit a slightly foul smell, but you can find low odor options
It's pricier than aqueous coating
You can't write on UV varnished areas with a pen and pencil, as it resists additional imprinting.
It takes more energy to dry than an aqueous coating, but you get added protection and quality.
When Do You Need UV Varnish?
What's great about UV coating is the versatility. You can use it in paper products, including packaging. That said, UV coating works best in thicker and heavier paper, such as corrugated packages and rigid set-up boxes.
You can also use UV varnish in other surfaces besides packaging, such as the surface of book covers, postcards, or business cards.
You'll most likely see artwork designs and packaging with a UV varnish for enhanced appearance and increased strength. If you're looking for a post-process option for your packaging, you may need UV varnish more.
That said, UV varnish isn't always the best option. Here are instances when UV varnish isn't a good fit with your project:
When you're using metallic inks
On text weight paper that weighs under 100 pounds
When your project has foil stamping
If you need to write on the surface after
When placing it on the addressed option or crucial information of packaging
Wrapping It Up
Hopefully, this article on UV varnish taught you more about this post-process technique and why it's beneficial for your packaging. If you're thinking of investing in UV varnish for your packaging, please contact us.